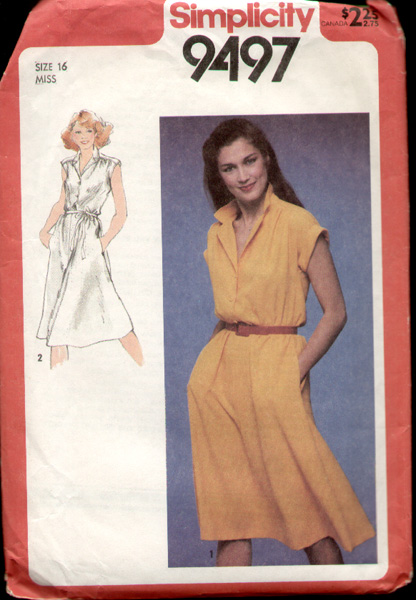 I sewed this pattern a few years ago but at the time of cutting out my fabric I wasn't quite sure if it was home dec or dress fabric. Well after a few wears and washes I realized it was definitely home dec stuff. I mean if the large roses and flowers which looked like my great aunt's couch weren't a giveaway the scratchy feel which did not improve with washing made it a certainty . But the fabric was so pretty - lemon background with large various pink roses and I got lots of positive comments too! But they didn't have to wear it so out the dress went . But I loved the pattern so out it came out again with fabric that was definitely of the dress variety this time.
This is one of the few patterns where I think the dress made up looks better than the pattern cover photo .
On hanging this up in my wardrobe when finished I realized that out of my five summer work dresses three are basically the same variation - 1/2 shirt waister dresses with notched collars . This one has dropped shoulders , the sleeves are cuffed and the bodice is slightly gathered and attached to a yoke but otherwise very similar to Simplicity 2923.My other 2 summer work dresses are wrap styles made of knit . So there I am in a style rut . I'm not making any resolutions sewing or otherwise for 2015 but I think I will at least try another dress style next year.
I have one other completed make to blog about and am currently sewing some shorts for my daughter as well . Then I will tackle my ` coffee` twin set I recently posted about and see what I can do with that. After that I have no projects planned so can start afresh .
Hope everyone had a great Christmas and is well.
Cheers Janine.