A sewing ` up ` was this T shirt using my favourite pattern Kwik Sew 2965 . I think this is my 6th version now. I only had a mere scrap of stretch panne velvet so I had to cut the back with a centre seam. The pattern is quick , easy and only uses small pieces of fabric. Win.
Another sewing `up ` was my first ever refashion ! I wish I had a before photo but years ago I made a jacket from some blue polar fleece . I paid full price for the Butterick 6835 pattern and full price for the polar fleece which wasn`t particularly cheap. I wanted to make the shorter version and bought fabric according to requirements listed on the back of the pattern envelope. This turned out to be way too much so I had enough for the longer version. The end result was a humongous ugly short coat / long jacket . But because I had actually invested some money in this I wore it - in public ! ( Amazing my daughters let me do this ) After a couple of years I came to my senses but put the jacket away in my cupboard to do something with. Several years later I finally got around to it.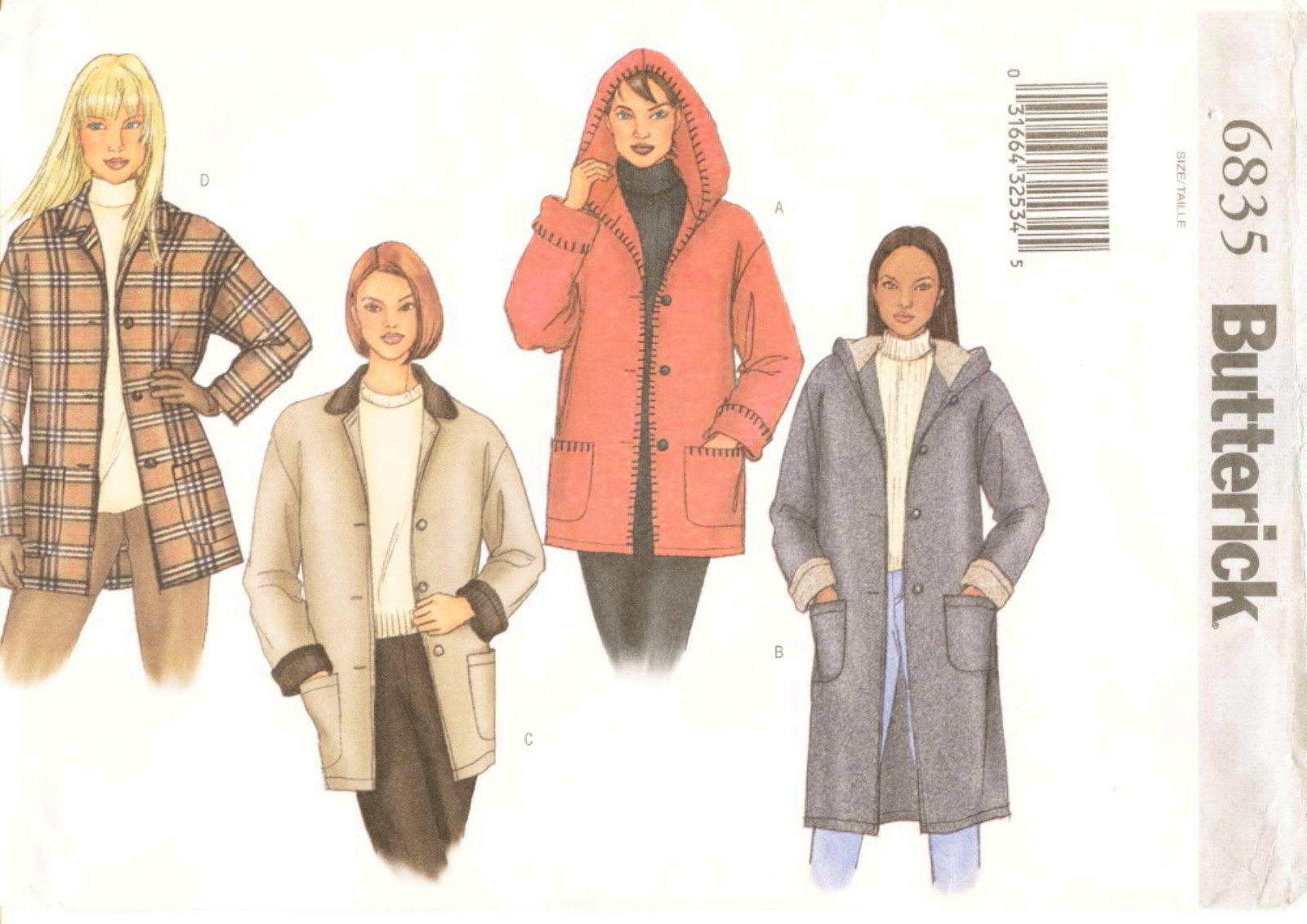 I unpicked the jacket and because it was so huge it was easy to get new fronts , sleeves and a back on the existing pieces. I used another old pattern, this time Burda 8881. This pattern is much better sized but the instructions are weird. It says to hand sew in the front zip !! What the heck !! No way. Apart from that little bit of Burda madness the pattern was very easy. I left on the pockets from the original jacket but they were massive too in keeping with the whole over sized thing . I unpicked them but you can just see the impressions where they were. Still this is much better than the original garment and I have worn it many times . Win.
But what goes up must come down .
Sewing down .
Down .
OK I think I have found a worse fabric to sew than silk chiffon . Really. Loosely woven sweater knit . Ravelly . Poor stretch recovery . Curly. It looks so pretty with its raspberry ripple appeal and so soft . It lured me in but what a devil to sew. I did try really.
I cut strips of bias cut interfacing and stabilised all the seams as directed. I treated the fabric like a new born baby , handling it so gently. I mean look how nice my collar looks . It was the hemming that led to my down fall. I measured where I wanted the hem but ahem, cut a great bit honking hole in the main body of the pullover. I cut this off and overlocked the edge and it was all downhill after that . I tried to rescue my pullover by adding a wide band to the bottom but the seam line hits right on the fluffiest bit of my stomach and looked just terrible. I took a photo and chucked in the bin.
I am wondering if this failure is just not sewing karma because I used an old Burda magazine (August 1993 ! ) and cut out the pattern . Yes , I didn`t trace the pattern , I cut it out . After looking at the magazine several times I realised that I would never make anything else . Despite all this I really like the pattern and will try again . In a more cooperative fabric . And I won`t cut a hole in the front .
Hope your sewing is all up , up , up !